Can Board Trustee Still Lead Bullard?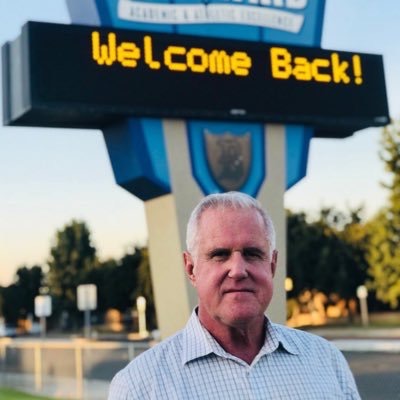 Hang on for a minute...we're trying to find some more stories you might like.
School board member, Terry Slatic, arrived eager to share his side of out- of- control dramas that seem to be engulfing his chaotic political career. Slatic recently arrived on campus, with an escort from the Fresno Unified School District, eager to share is side of the out-of-control dramas. Legally, Slatic is not permitted to be on Bullard's campus because of a sanction administered by the district, as well as, a court ruling that set physical restrictive boundaries on him.
Dressed in a clean- cut blue shirt, the retired Marine Major sat down for a candid interview with the Bullard Charger. Accustomed to conflict on the battlefield, Slatic decided to face his critics head on.
"There is no recall," Slatic asserted. "Somebody apparently started a campaign fund to recall me."
A small group of angry residents and constituents has expressed a desire to get rid of Slatic, especially on the heels of a cheerleader incident that boiled over into the new school year.
Some students and a few parents were outraged after they discovered that Slatic attended a cheer practice unannounced, but according to Slatic the superintendent encouraged the visit.
"Yes, Slatic and I have been discussing the cheerleader incident and one of us needs to speak with them." That is what Slatic claims is a direct quote made by Superintendent Bob Nelson.
"The cheerleader incident has been blown out of proportion," Slatic retorted. "It's over."
A group named "Recall Slatic" says the fight is not over and it wants him removed from office.
"It's not just the Blackface incident," Stacy Williams, a community activist said. She's accused Slatic of misusing his power as a Board Trustee and "sticking his nose where it doesn't belong."
"It first started with a young man on Bullard's campus, then again with a military recruiter, later with a wrestling coach, and lastly a major conflict with the Bullard High School cheer team," Williams continued.
Williams and many of her cohorts do not live in Slatic's voting district and according to Slatic it will take more than 7,000 registered voters to oust him from office and he doesn't have much confidence that it will happen anytime soon.
"I'm not threatened by anything. If the voters want to remove me then I'll happily go back into retirement but the chances of that happening don't appear likely. The entire process takes about 120 days. I am here to fulfill my duty as an elected official and do as good of a job as I can representing the students of Fresno Unified," Slatic said.
In a follow up phone interview, Williams said the finishing touches are being put on the recall petition. The 1994 Bullard graduate says that she and many others no longer believe Slatic can successfully lead the Bullard school community.
Slatic disputes that and says he wants to drop all the drama and concentrate on student achievement and making Bullard "great again."
"According to recent data, scores at Bullard are low. The average high school graduate in Fresno Unified has a low GPA. And, most of the 5,500 graduates last year are testing at a sixth-grade level in core subjects. This is tragic. Something needs to be done about the low level of achievement in our district. This is what I'm trying to concentrate on, this is the real work that needs attention," Slatic insisted. "And, don't forget about Bullard being on probation for a second year. The school did not meet standards set by the Western Accreditation of Schools and Colleges."
But, is it possible for Slatic to accomplish his goals in the mist of chaos?
"I think the people of Fresno, or Northwest Fresno at least, want a guy with a temperament like mine," he said. "A guy whose temperament is to go out there and actually make it better. Someone that will go out there and lift up rocks or to go through five months of data…"
Time will tell if Slatic survives this latest wave of controversy. Much of it appears to be sizzling but the fire is not completely doused.